In today's competitive marketplace, building a strong brand is essential for businesses to thrive. A strong brand not only attracts new customers but also helps retain existing ones while enabling companies to command a premium price for their products or services. One of the key elements of a strong brand is consistency. Consistency ensures that customers have a uniform experience when encountering a brand across various touchpoints. From logos and branding to messaging and marketing materials, maintaining brand consistency is crucial for creating a lasting impression in the minds of consumers.
For franchise owners, achieving brand consistency across multiple locations can be a challenging task. That's where the right partner comes in. A reliable and experienced franchise partner can help you create a cohesive brand identity and provide the necessary tools and resources to maintain brand consistency across all your franchise locations. National Branding, with its extensive experience in the sign industry and expertise in brand management, is the perfect choice to help you master brand consistency and achieve your franchise goals.
Why Choose National Branding?
At National Branding, we understand the importance of brand consistency in franchise businesses. With over 25 years of experience in the franchise industry, we have honed our skills in helping businesses build and protect their brands. Our team of seasoned designers and marketers is dedicated to creating strong brand identities that leave a lasting impression. We specialize in working with various industries, including Home Services, Hospitality, Healthcare, Restaurants & Bars, and Real Estate, providing tailored solutions to meet your specific brand requirements.
Choosing the Perfect Franchise Partner: Key Considerations
Experience: When selecting a franchise partner, experience matters. Look for a partner with a proven track record in the franchise industry. National Branding's extensive experience in working with franchises across different sectors ensures that we understand the unique challenges and opportunities associated with maintaining brand consistency.
Resources: Your franchise partner should offer comprehensive resources to support your brand consistency efforts. At National Branding, we provide access to a wide range of marketing materials, training programs, and ongoing support to help you maintain a consistent brand presence across all your franchise locations.
Commitment: Choose a partner who is genuinely committed to your success. National Branding's unwavering dedication to our clients' goals ensures that we work hand-in-hand with franchise owners, providing guidance and support every step of the way. We strive to create brands that are both memorable and effective, aligning with your vision for your franchise.
John Jetts: A Visionary Leader
"At Jet's Pizza, we believe that brand consistency is essential for success. That's why we've partnered with National Branding for over 15 years to ensure that our look and feel is consistent across the country. This consistency helps us build trust with our customers and franchisees, and it's one of the reasons why we've been able to grow to over 350 locations in over 15 states. If you're looking for a franchise partner that can help you achieve brand consistency, I encourage you to reach out to National Branding." – John Jetts, President & CEO of Jet's Pizza.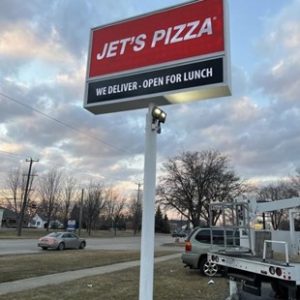 With John Jetts, a visionary leader, at the helm, Jet's Pizza has experienced tremendous growth while maintaining a consistent brand presence. The partnership between Jet's Pizza and National Branding exemplifies the effectiveness of a strategic alliance in achieving brand consistency and fostering trust among customers and franchisees.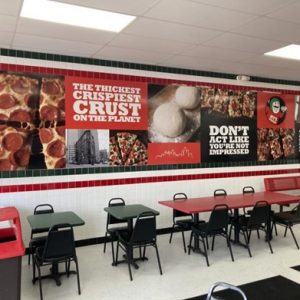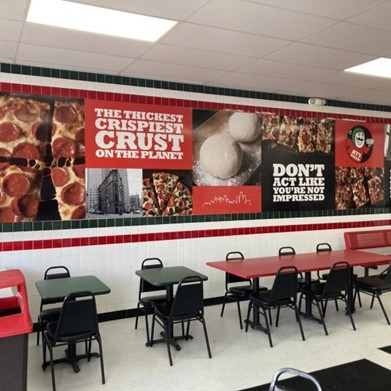 Additional Tips for Choosing the Perfect Franchise Partner
Get Referrals from BrandBoss Users: To ensure seamless brand consistency across all your franchise locations, seek referrals from other BrandBoss users. They can provide valuable insights into the effectiveness of BrandBoss in managing and tracking location-based branding. Hearing directly from those who have experienced the benefits of BrandBoss can guide you in choosing the perfect franchise partner.
Explore BrandBoss Features: BrandBoss offers a comprehensive platform that allows you to track all your location-based branding in one place. With summary views of every managed location on a single screen, you gain a bird's eye view of our patent-pending 15 Step Process for Exterior Sign Branding. BrandBoss empowers you to pinpoint exact details of any particular site with just a few clicks, making it a valuable tool for your franchise management. Consider partnering with a franchise partner that utilizes the advanced features and capabilities of BrandBoss.
Organize Your National Project Managers: BrandBoss serves as a centralized platform to keep your entire team of national project managers organized. Collaborating and coordinating efforts become streamlined and efficient, ensuring consistent execution of branding across all locations. Look for a franchise partner who leverages BrandBoss to enhance communication and collaboration among project managers.
Conclusion
At National Branding, we understand the importance of centralized brand management and brand consistency across franchise locations. With our advanced platform, you can track and manage all aspects of location-based branding, from a summary view of every site to detailed insights into specific locations. Trust in National Branding's proven experience in Home Services, Hospitality, Healthcare, Restaurants & Bars, and Real Estate, along with our years of expertise in plans & permits. From managing one location to expanding to 500 or more, we are here to help you manage and protect your brand. Contact National Branding today and let us guide you in choosing the perfect franchise partner to ensure your brand's consistency and success.