Project Headquarters: 1900 West Field Ct, Lake Forest, IL 60045
About the Client
Pactiv Evergreen's product line includes a wide range of food and beverage packaging products, including paper cups, plastic cups, food containers, and other similar products. The company prides itself on its innovative approach to packaging, including its use of recycled materials and environmentally friendly products.
As a global leader in food and beverage packaging, Pactiv Evergreen's mission is to provide its customers with sustainable, high-quality products that meet their unique needs. The company has a strong commitment to social responsibility and is dedicated to reducing its environmental impact through sustainable practices and technologies.
Pactiv Evergreen is a publicly traded company listed on NASDAQ under the ticker symbol PTVE. The company's headquarters are located in Lake Forest, Illinois, and it employs approximately 15,000 people worldwide.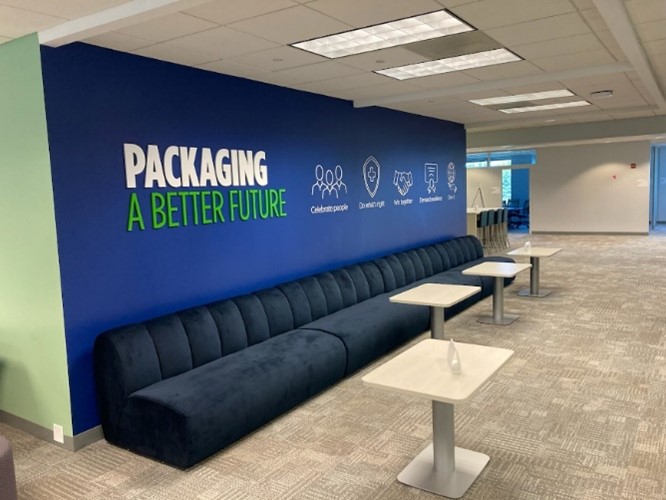 Pactiv Evergreen's manufacturing plants utilize the latest technologies and production techniques to ensure that the company's products meet the highest standards of quality, reliability, and safety. In addition, the company's distribution network ensures that its products are delivered quickly and efficiently to customers throughout the region.
Overall, Pactiv Evergreen's extensive manufacturing and distribution network is a key driver of its success in the food industry, allowing it to meet the needs of customers in a timely and cost-effective manner while maintaining its commitment to sustainability and innovation.
Project Overview:
National Branding and Pactiv Evergreen's Successful Collaboration for Consistent Branding Across 107 Locations.
In 2021, Pactiv Evergreen, a major player in the food industry with 53 manufacturing plants and 26 distribution warehouses across the United States, Canada, and Mexico, acquired Fabri-Kal. This acquisition led to the need for one brand across all facilities, resulting in a rebranding effort that would ensure consistency and visibility of the brand across all locations.
National Branding has been working on the rebranding project for Pactiv Evergreen, focusing on 107 locations spread throughout 15 states and 3 countries. The main objective was to ensure that every location had consistent branding, which included the addition of door vinyl for all exterior doors, such as the main doors, employee entrance, and shipping & receiving areas. Additionally, National Branding aimed to provide a uniform look for each location by adding a wall sign and a ground sign if the site permits.
One of the challenges that National Branding faced was that each of the existing sites had signs that looked entirely different. The focus, therefore, was on ensuring that the signs were brand compliant to provide a consistent brand image across all locations. As National Branding often emphasizes, they don't just sell signs; they sell brands.
To facilitate the project, Pactiv Evergreen's custom held all of their main communication, budget communication, and brand book communications through Brandboss. This software ensured that all the data was logged correctly and provided a centralized source of communication for the project. Conference calls with the customer went smoothly as both National Branding's team and the customer could view the same information.
The project is still ongoing, and National Branding's successful collaboration with Pactiv Evergreen has provided consistent branding across all 107 locations. The addition of door vinyl, wall signs, and ground signs has significantly improved the brand's visibility and consistency. National Branding's focus on providing a uniform look for each location has ensured that the brand image is recognizable and coherent.
The Result:
National Branding has been working diligently with Pactiv Evergreen on a multi-phase project to create a cohesive brand image across all 107 locations in 15 states and 3 countries. The project was necessary after Pactiv Evergreen's acquisition of Fabri-Kal in 2021, resulting in the need for a single brand across all facilities.
The project has been broken down into four different phases based on location priority, with the goal of having all signage completed and installed by September 2023. Currently, National Branding is working on the installation of signage in Phase 1, permitting/fabrication of signage in Phase 2, and site surveys and brandbooks of signage in Phase 3. Phase 4 is currently on hold.
Through National Branding's efforts, Pactiv Evergreen has seen significant results. The new signage has created a cohesive brand image across all locations, ensuring consistency and improving visibility. The use of Brandboss has streamlined communication and ensured that all aspects of the project are logged properly, allowing for smoother conference calls with the customer.
National Branding's commitment to providing high-quality, brand-compliant signage has made a significant impact on Pactiv Evergreen's brand image and visibility. The completion of the project by September 2023 will mark a major milestone in the partnership between National Branding and Pactiv Evergreen.