D1 Training is a fitness training facility with over 250 locations across more than 20 states in the US. The company's mission is to provide a supportive environment for anyone dedicated to their sport or fitness, whether they are beginners or professionals, young or old. The facility offers customized, state-of-the-art equipment, sports science-backed programs, and professional coaches to help clients achieve their goals.
D1 Training is suitable for all fitness levels, from beginners to fitness enthusiasts, offering various programs to cater to clients' individual needs. The training programs include boot camps, strength training, one-on-one training, and scholastics training. Clients can be assured that they will be motivated to achieve their best while having fun along the way. When clients join D1 , they become part of a team rather than just another gym-goer.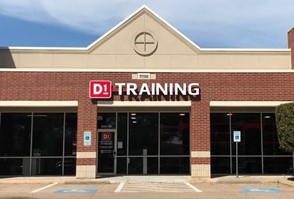 D1 Training was founded by Will Bartholomew, who was a National Champion and captain playing with Peyton Manning at the University of Tennessee. After suffering a career-ending injury during a non-contact drill with the Denver Broncos, Bartholomew realized that there was no place to train as he did at a Division 1 school. This realization led him to start the D1 journey, which began in 2001 as training kids in a field and evolved into training facilities all over the country. The success of D1 is attributed to Will's passion for training, his motivation, and the strong team around him.
At D1 Training, the focus is on training the entire body as a unit to produce optimal human performance. The training techniques used are trusted and proven, and every workout follows a specific progression of dynamic warm-up, performance, strength training, core and conditioning, and cool down. The workouts follow a strategic 8-week training cycle that is meticulously planned and backed by sports science. D1 is a membership-based gym and boutique fitness franchise that provides individual and group training classes in a state-of-the-art facility, the likes of which are normally found on the campuses of the biggest schools and in the training centers of the best teams. The coaches provide instruction in basic athleticism, advanced cross-training and fitness, and targeted workouts to improve overall performance.
Project Overview
National Branding is a national sign shop that has been selected by D1 Training, a rapidly growing fitness franchise, to lead its branding and sign efforts across the country. With D1 experiencing significant growth in 2021, National Branding has been tasked with providing consistent branding and signage for all new and existing franchise locations.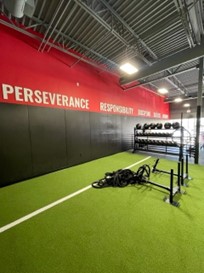 Scope of Service:
National Branding's scope of service includes providing branding and signage solutions for all new and existing D1 Training franchise locations. Each buildout of a D1 facility comprises over 20,000 square feet, and the look and feel of each location needs to be consistent across all franchises.
Key Deliverables:
PVC channel lettering: This is an essential component of the D1 brand, and National Branding will be responsible for producing and installing PVC channel lettering at all franchise locations.
Wall vinyl: Wall vinyl is a crucial aspect of the branding efforts, and National Branding will be tasked with providing and installing this type of signage at all D1 locations.
Location ID wall: National Branding will also create and install location ID walls that will help identify D1 locations when multiple businesses are in the same area.
Tenant panels: Tenant panels will be provided by National Branding to identify specific tenants within a shared building or space.
Timeline:
The project will be ongoing as D1 Training continues to open new franchise locations. National Branding will work closely with D1 to ensure that each location is outfitted with the appropriate signage and branding, and the project will be reviewed quarterly to ensure that all goals and objectives are being met.
The Result
Since the project began in 2021, D1 Training has continued to expand rapidly. National Branding has been working closely with D1 to provide branding and signage solutions for all new locations. Currently, an additional five locations in Texas are being added, and several other states are also experiencing growth.
National Branding and D1 meet once a week to ensure that all projects are on track. This regular communication helps ensure that all parties are aware of any changes or updates and that the project stays on schedule.
The entire project is managed through the BrandBoss software, which tracks every site across 15 unique steps. This comprehensive tracking system ensures that National Branding and D1 can keep up-to-date with every location and that information is consolidated by site and state in one area. BrandBoss also provides the cleanest and most concise timeline reporting available in the sign and branding industry, which helps ensure that all parties are aware of any changes or updates in real-time.
National Branding's partnership with D1 Training has been a success so far, and the project continues to grow as the fitness franchise expands into new states. With weekly meetings and the use of BrandBoss software, National Branding is able to provide exceptional service and support for D1 Training's branding and signage needs.