Project Location: 1400 Wewatta Street, Denver, CO 80202
About the Client
Everside Health is a premier onsite healthcare vendor with over 380 health centers located throughout the United States. Their mission is to improve the health of more people, while reducing the total cost of healthcare for employers and organizations. In 2022, Everside Health was recognized as a "Best in KLAS Employer Sponsored Healthcare Services" recipient, thanks to hundreds of validations from employers, providers, and patients. This award underscores Everside's commitment to providing the highest quality care for their nationwide patients.
Everside Health is the result of a unique collaboration between four different healthcare companies: Paladina Health, Activate Healthcare, Healthstat, and R-Health. Each company brought a unique perspective, a diverse footprint, and a dedication to building relationships with employers and patients. Despite their differences, they shared a common spirit in everything they did, and came together to form Everside Health.
Everside Health is a collaborative effort between several healthcare companies founded over the past two decades. Today, Everside Health offers a unique healthcare experience with a nationwide network of health centers that focus on providing quality, affordable care.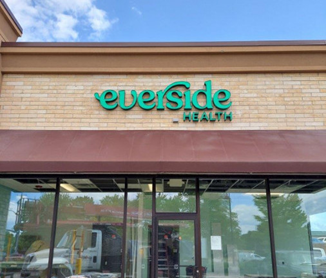 Project Overview
Everside Health underwent a merger of four healthcare companies, resulting in the need for a single brand and message across all locations. This encompassed various signages, including outdoor, exterior, room, lobby, and channel letters. To facilitate the project, the Everside Health team opted for National Branding, owing to their BrandBoss Sign Management Software. The software provided a centralized communication source, handling every aspect of the sign process from start to finish. Weekly calls with National Branding and a review of BrandBoss ensured the project stayed on track, despite spanning 22 states with 483 sites. The project began around October 2022 and is still expanding.
Rae Nelson, Project Manager, for National Branding, praised the Everside Health rebranding team for their dedication to the project. According to her, they were highly responsive, accommodating, and considerate of the project's budget. She lauded their daily collaboration to ensure timely completion.
The Result
National Branding's installation of new signs for Everside Health in 22 states has yielded significant results. With the project still ongoing, Everside Health now boasts a cohesive brand image across all locations. The new signages, including outdoor signs, exterior signs, room signs, lobby signs, and channel letters, have improved the brand's visibility and consistency.
The BrandBoss Sign Management Software used by National Branding has proved instrumental in streamlining the sign process. The software's centralized communication source has allowed for effective collaboration and timely completion of the project. The weekly calls focused on strategy have helped to keep the project on track, despite its vast scope.
The project has provided Everside Health with a unified brand image, improved brand visibility and consistency, and streamlined the sign process.