Project Location: Toronto and several other cities in Canada
About The Client
Connect Hearing Canada is the leading provider of comprehensive hearing testing and solutions in the country. With a belief that every sound connects us to our world, Connect Hearing strives to enable better hearing for their customers. They offer a wide range of services to cater to different lifestyles and budgets, ensuring that individuals can enjoy clear and effective communication.
At Connect Hearing, their approach with customers is characterized by warmth, professionalism, and simplicity. They emphasize active listening to understand each customer's unique communication loss and determine the environments that are most important to them. With this information, Connect Hearing's team of experienced professionals can connect customers with the best hearing aids tailored to their specific needs.
As the largest network of registered Audiologists and professional Hearing Instrument Practitioners in Canada, Connect Hearing has been serving communities across the country for over 45 years. They have helped countless individuals stay connected to the sounds they cherish the most, enhancing their overall quality of life.
If you, a loved one, or a friend has questions or concerns about hearing health, Connect Hearing encourages you to reach out for assistance. They offer a complimentary hearing test conducted by their knowledgeable professionals, providing valuable insights into your hearing abilities. Additionally, Connect Hearing's website features an online three-minute hearing test, allowing individuals to conveniently assess their hearing health from the comfort of their own homes.
Connect Hearing Canada is dedicated to providing exceptional hearing care and promoting the importance of healthy hearing in people's lives. Their team of Audiologists and Hearing Care Professionals are committed to helping individuals regain the joy of clear and vibrant sound experiences. Contact Connect Hearing today to take the first step towards better hearing.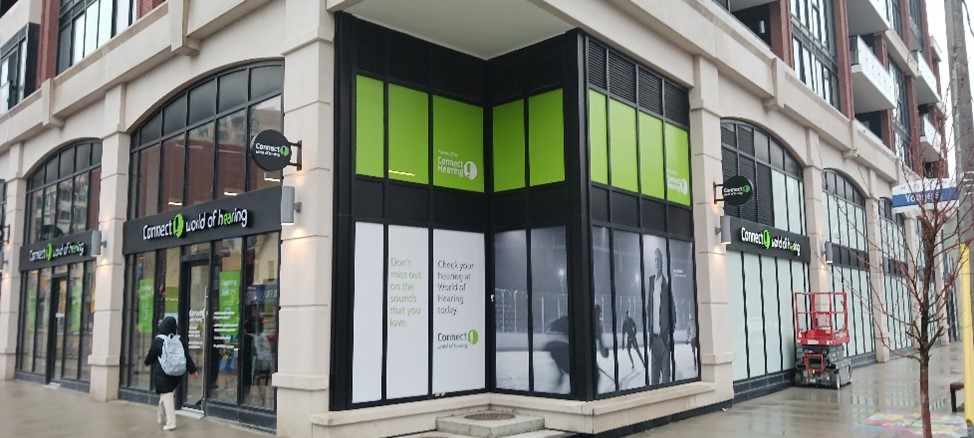 Project Overview
National Branding, a renowned sign shop headquartered in Troy, Michigan, has been entrusted with an exciting opportunity to collaborate with Connect Hearing Canada on a series of diverse sign projects spanning the entire country. This prestigious selection reflects the exceptional reputation and expertise of National Branding in delivering top-notch signage solutions.
The scope of this undertaking encompasses a wide range of sign installations, aimed at enhancing the brand visibility and recognition of Connect Hearing throughout Canada. National Branding's skilled team undertook the installation of dimensional/channel letters, captivating window vinyl designs, eye-catching tenant panels, striking wall signs, and sophisticated interior acrylic letters. By employing these various sign types, the objective is to establish a consistent and impactful signage presence that captivates the attention of both pedestrians and passersby from a considerable distance.
The primary goal of these projects is to create a lasting impression on potential customers and allow them to easily identify Connect Hearing's locations. By ensuring the logo and colors of Connect Hearing pop with vibrancy and clarity, National Branding aims to create a visual identity that stands out amidst the bustling Canadian streets. The emphasis is on creating an unforgettable visual experience that reflects the brand's professionalism and commitment to hearing health.
National Branding is enthusiastic about this collaboration and remains dedicated to delivering outstanding results that exceed the client's expectations. With their expertise and attention to detail, they are poised to successfully execute these projects and contribute to Connect Hearing's journey towards establishing a strong and recognizable brand presence across Canada.
The Result
Consistent and Recognizable Signage: National Branding successfully achieved the objective of creating a consistent and recognizable signage system for Connect Hearing Canada. By utilizing their expertise in sign design and installation, National Branding ensured that all installed signs adhered to Connect Hearing's brand guidelines and maintained a cohesive visual identity. The use of vibrant green in window signs and graphics added an eye-catching element that helped make Connect Hearing destinations easily recognizable.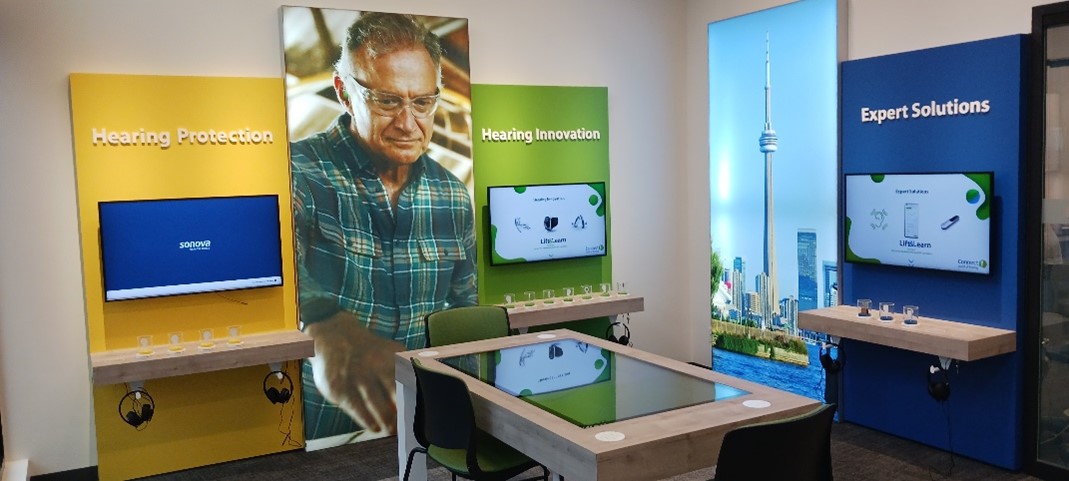 BrandBoss Software Implementation: To streamline and manage the installation process across Canada, National Branding implemented the use of BrandBoss software. This software enabled efficient project tracking and ensured that all installations were completed on time. With BrandBoss, the client and National Branding could monitor the progress of each project in real-time, ensuring a seamless execution and minimizing any potential delays.
Nationwide Signage Installations: National Branding successfully executed multiple sign installations for Connect Hearing across various locations in Canada. From major cities to smaller communities, National Branding's team of skilled professionals ensured that each sign was installed accurately and with precision. The result was a comprehensive and cohesive signage presence that represented Connect Hearing's commitment to providing quality hearing care services throughout the country.
National Branding's collaboration with Connect Hearing Canada exemplified their expertise in national branding and sign installation. Through their meticulous attention to detail and utilization of advanced project management software, they delivered outstanding results in creating a recognizable and consistent signage system. By working closely with Connect Hearing, National Branding successfully brought their vision to life and enhanced their visibility in the Canadian market.