Project Location: Fort Worth, TX
About The Client
Central Transport is a leading transportation company that plays a vital role in the growth and development of the United States. By efficiently transporting goods for businesses across various industries, Central Transport helps businesses thrive and ensures the smooth functioning of everyday life. With a strong commitment to customer satisfaction, Central Transport aims to ensure that freight reaches its destination safely and promptly, all while offering cost-effective solutions.
Central Transport serves a diverse clientele, including some of the world's largest corporations spanning manufacturing, retail, and businesses of all sizes. With a robust network of nearly 200 customer service centers, the company effectively caters to the long-haul, regional, and international markets. By maintaining strong relationships with its customers, Central Transport has become a trusted partner in meeting their transportation needs.
As a family-owned business, Central Transport values community engagement and giving back. Throughout the year, the company actively supports various philanthropic causes, including veterans services, health initiatives, support for sick and underprivileged children, aid for the homeless, assistance for victims of trafficking, and more. Central Transport recognizes the importance of supporting local communities and encourages its team members to participate in charitable endeavors.
Environmental responsibility is a core principle at Central Transport. The company is dedicated to minimizing its carbon footprint and employs several strategies to achieve this goal. The entire fleet is modern, with all vehicles being under three years old. Trailers are equipped with side skirts to enhance fuel efficiency, and network planning is optimized to minimize fuel consumption. Central Transport also pro
motes local on-site recycling initiatives to reduce waste. In the past year alone, the company has invested in over 1,500 new tractors and trailers, boasting a fleet with an average age of only two years and 100% air-ride capability.
Central Transport takes great pride in its role as a reliable transportation provider, supporting businesses and communities alike. By prioritizing customer satisfaction, giving back to society, and championing environmental stewardship, Central Transport demonstrates its commitment to excellence in the industry. Choose Central Transport for your transportation needs and experience the difference of a company that cares.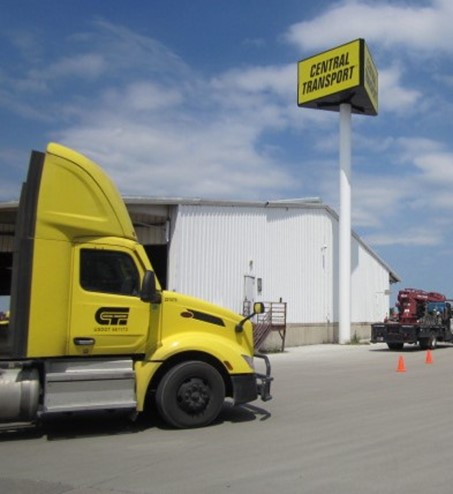 Project Overview
National Branding, a reputable national sign shop based in Troy, MI, was chosen by Central Transport to undertake a substantial project involving the fabrication and refurbishment of a tri-faced pylon sign. The sign, towering at a height of 77 feet, was in a state of severe disrepair and urgently required a complete refresh. The project was initiated based on the request of Central Transport's main point of contact.
After conducting a comprehensive site survey, it became evident that the sign's condition was far worse than initially anticipated. The flooring was found to be rotted, the electrical system was mangled, and each frame of the sign was shattered into multiple pieces. In addition, two of the faces were entirely missing, while others had been ravaged by strong winds. Despite these challenges, the project provided an invaluable learning experience, particularly as it was National Branding's first undertaking of a pylon project of this magnitude.
Following the approval of permits in mid-March, the project commenced and was successfully completed during the first week of May. The comprehensive refurbishment process began with the fabrication of new sign components. The pylon was repainted, with the main structure coated in a fresh layer of white paint and the cabinet adorned in sleek black. The electrical system was updated, and the cabinet underwent LED retro-fitting, ensuring optimal visibility. The rotten flooring was replaced with new, sturdy materials. Finally, three new Flex Faces, each measuring 211″ x 117.75″, were meticulously installed on the sign, completing the revitalization process.
The Result
The culmination of the project is a striking, brand new sign that can be easily spotted by truckers and passersby from afar. The refurbished pylon not only enhances the aesthetic appeal of Central Transport's facility but also instills a sense of pride among its employees. The sign serves as a powerful upgrade, reflecting the company's dedication to maintaining a professional and inviting image.
This ambitious pylon project has equipped National Branding with invaluable experience and expertise in handling similar endeavors in the future. Despite the unexpected challenges encountered during the site survey, the project was successfully executed, underscoring National Branding's professionalism and capabilities as a trusted sign shop.
Overall, the project has achieved a remarkable transformation, breathing new life into a dilapidated sign and effectively fulfilling the client's objective of creating a prominent and captivating signage solution. Through meticulous sign fabrication, refurbishment, and installation, National Branding has delivered a visually striking and long-lasting sign that embodies the identity and values of Central Transport.