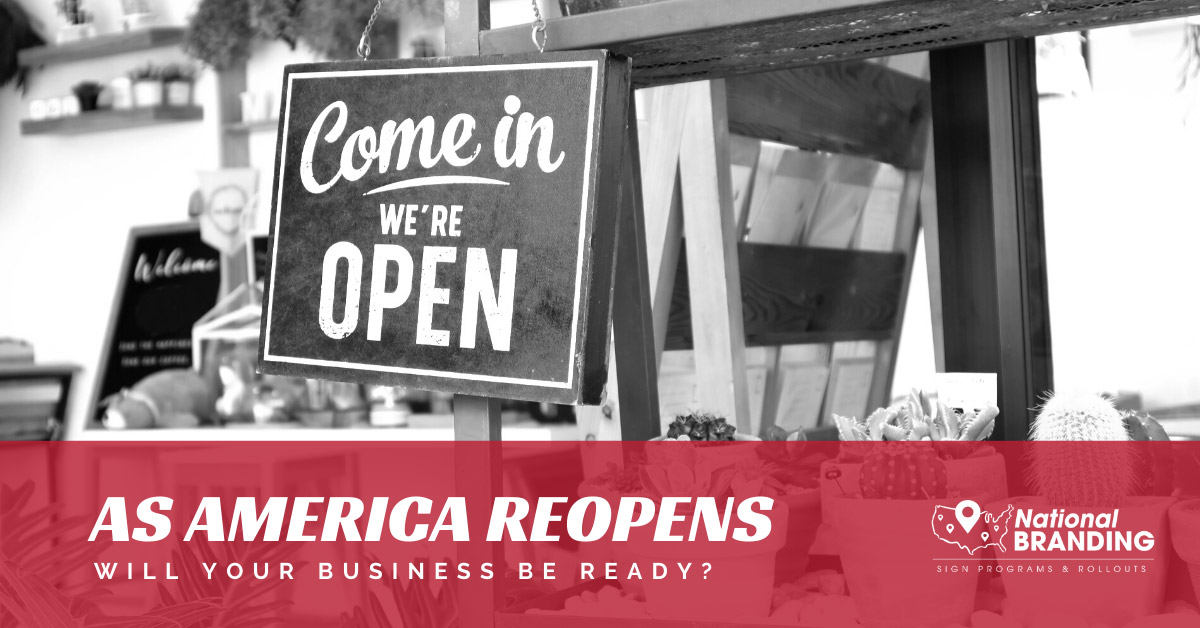 NationalBranding can help you keep employees and customers informed and safe as the country begins to ease COVID-19-related restrictions.
With a national return-to-work starting to take shape, NationalBranding is working with U.S. employers from mom and pop shops to Fortune 500 companies in preparation for what's next.
NationalBranding Chief Operating Officer Matthew Godwin said he's ready to navigate "the new normal" — meaning a business world that has unprecedented protocols like social-distanced spacing and guided office traffic flow. And the team at NationalBranding, with decades of branding and signage experience, wants yours to be too. 
Keep the trust of your customers by clearly communicating in a professional manner.
NationalBranding can provide solutions on how businesses can best communicate the latest safety procedures in a customer-friendly way.
When Jet's Pizza wanted to continue to provide their products, but needed  "Let's Get Jet's" pizza lovers to stay outside of the storefront, NationalBranding developed signage for many Jet's Pizza's U.S. restaurant locations.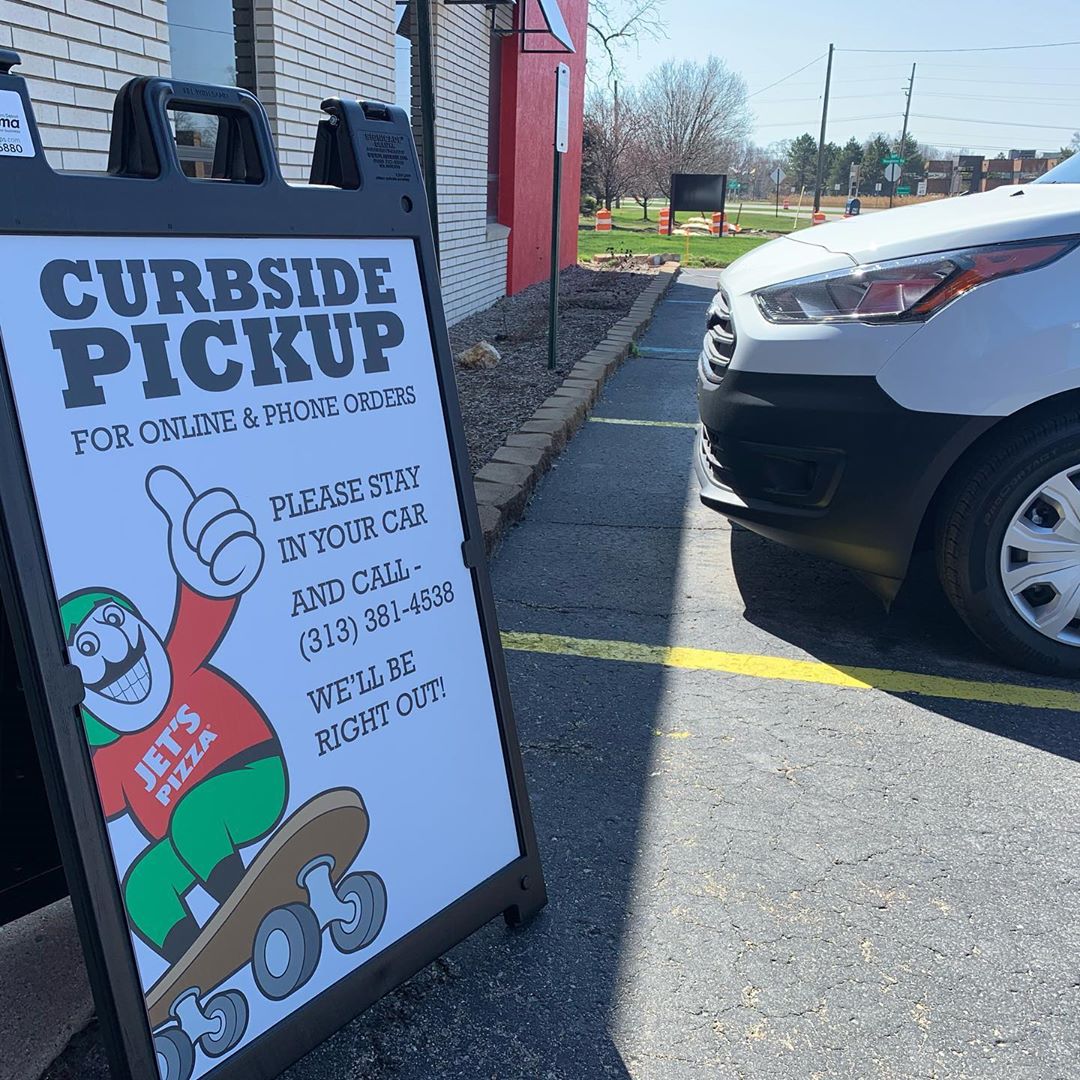 The branded A-frames — using the Jet's Pizza logo and their red, black and green color scheme — lets customers know to stay in their cars and to call a listed phone number so a Jet's Pizza team member can bring the order out. The customer benefits because the branded signage lets them know the steps to take to receive their order — removing any confusion and allowing the trusted relationship with the brand to continue — and the employee is able to deliver it in a way that keeps them both safe.
Steve Sims, marketing specialist for Jet's America, a NationalBranding client, said Godwin and his team provided the national pizza franchise with messaging and signage essential to their business.
"During these uncertain times, National Branding's team provided quick solutions and ideas to the needs of our franchise community," Sims said.
In addition to NationalBranding's attention to the Jet's Pizza brand detail, Sims said the cohesive online shop — nationalbranding.com— allowed Jet's leadership to see available signage and safety options before making a decision. "The  webpage made it easy to browse and share options that could be implemented in-store to make our customers and employees feel safe. We appreciate their ability to adapt so quickly." 
When the COVID-19 cases first appeared in the U.S., NationalBranding re-tooled their office machinery — which was previously used to make signs — to create personal protective equipment for first-line responders and essential workers. 
Not only did they spend 18-hour days producing the needed equipment to make up for shortages, they also donated them to hospitals and other places in need.
With nearly 20,000 made, NationalBranding has the materials, machinery and experience to create your workplace safety needs ranging from face shields to sneeze guards.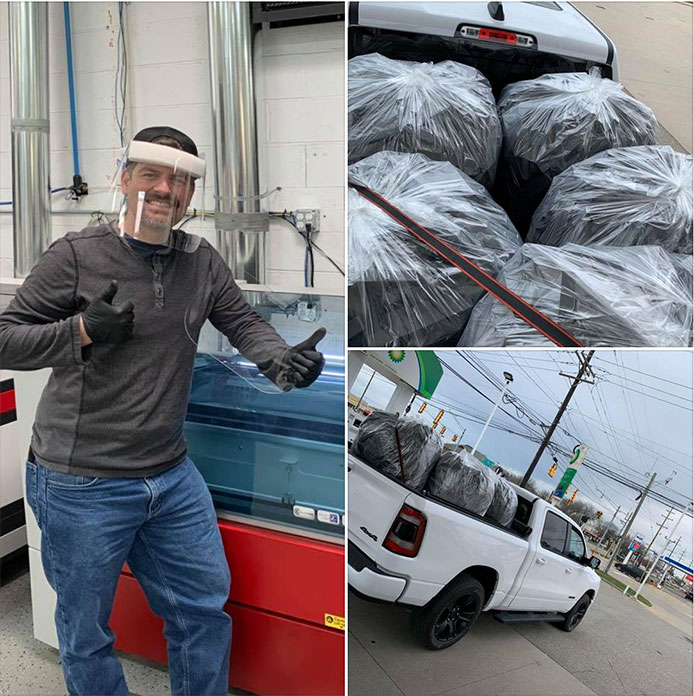 Review your company's safety needs; plan how you can share the information in a way that's easy to understand and follow
International Autotech Company Veoneer, a NationalBranding client, is planning for a mid-May reopening of their Michigan technical center when state government restrictions are eased. They reached out to the NationalBranding team.
After gathering information about Veoneer's safety needs, the team customized a multifaceted signage kit that provided attractive floor markers for social-distanced spacing, directions to guide employee traffic flow, and easy-to-read instructions on new safety measures.
"With the help of the team at NationalBranding, we have prepared our technical center in Southfield for the Safe Return to Work of our employees. The health and safety of our Veoneer employees, their families, and our communities is priority one, two and three," said Veoneer Facilities Manager Larry Walewski.
"Their existing designs and collaborative spirit allowed us to quickly bring in the right solutions for our facility."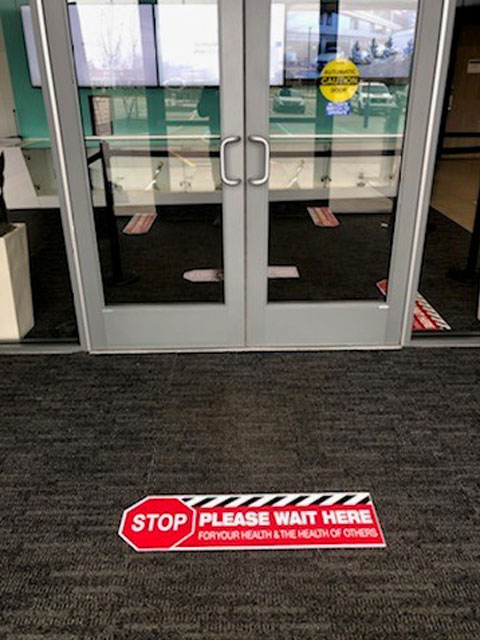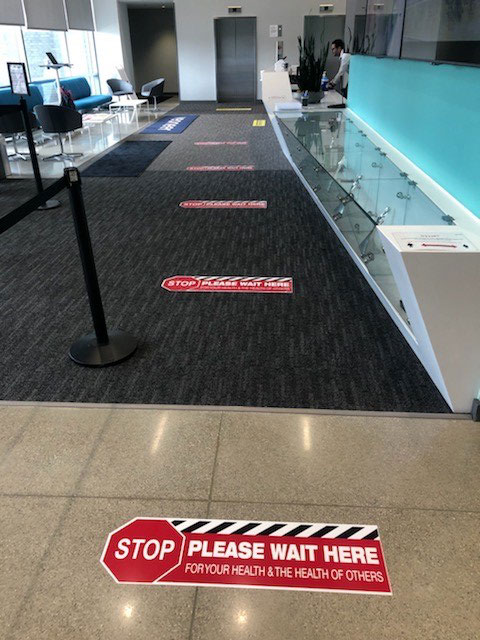 NationalBranding can help
Godwin says NationalBranding listens and creates customized solutions for clients. And with the extra steps needed with COVID-19 concerns, he wants businesses to know that NationalBranding is ready to help create solutions to whatever challenges lay ahead.
"As we all adjust to whatever the new normal may be, we are fully prepared to help you prepare your business, factory, manufacturing plant, your life — I know what it's like to have a business — so you can visually change the way your spaces look with essential signage and keep your workers safe. Because, at the end of the day, we all need to look out for each other."
Have a project in mind or questions? Email the NationalBranding Sales Team or call 248-585-6880.