As a business owner, you understand the importance of a high-quality sign in attracting customers to your establishment. A well-crafted sign can be a beacon, drawing in potential clients and making your business stand out. However, there comes a time when it's essential to part ways with your old signage and strip away the old brand image, and that's where National Branding excels. National Branding, a company that specializes in sign removal and de-branding services across the US and Canada, is your go-to partner for this critical task.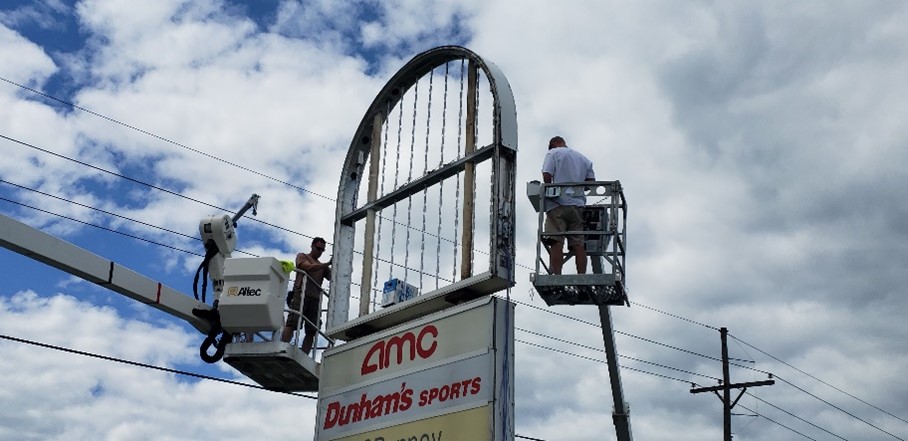 The Sign Removal & De-branding Process
If you've never experienced sign removal and de-branding before, you may be uncertain about where to start. Here's what you need to consider when choosing a professional:
Expertise in Sign Removal and De-branding
Sign removal and de-branding are complex processes that require specialized skills and equipment. Not all companies can guarantee the best results or offer competitive pricing. It's crucial to consult with multiple service providers to find the right fit for your business. Look for professionals who excel in both areas as these tasks often go hand in hand.
Free Consultations and Estimates
Rebranding your establishment by removing old signs and de-branding is a significant decision. It's important to work with a company that offers free consultations and estimates. This demonstrates their commitment to customer satisfaction and helps you understand the process, costs, and estimated timeline involved.
Safety and Efficiency
Sign removal and de-branding can be intricate and sometimes hazardous processes, particularly when dealing with various materials and structures. A professional team should be well-equipped with the latest technology and have years of experience, ensuring the highest safety standards during these processes. Moreover, efficiency is vital to minimize disruption to your business.
Comprehensive Services
After the removal of signs and de-branding, you might find that the building and support structures need repairs. National Branding offers comprehensive services to address all your needs in one place, so you won't have to search for additional contractors. We can make the necessary fixes, ensuring your establishment is ready for a new brand identity.
Why Choose National Branding?
At National Branding, we specialize in sign removal and de-branding, focusing on these crucial processes to help your business transition to a fresh, new identity. Here's why you should choose us:
Expertise in Sign Removal and De-branding
Our experienced team is equipped with the knowledge, tools, and skills needed to complete sign removal and de-branding efficiently. We understand the importance of maintaining the integrity of your building while removing the old brand elements.
Safety and Efficiency
We prioritize safety and efficiency throughout the sign removal and de-branding processes. Our team uses the latest technology and years of experience to ensure the highest safety standards and minimal disruption to your business.
Comprehensive Services
National Branding provides comprehensive services, including repairs and preparations for your new brand identity. You won't have to go through the hassle of finding additional contractors; we've got you covered.
When it comes to sign removal and de-branding, National Branding is your trusted partner. We offer a range of services to meet all your needs, ensuring a smooth transition to a new brand identity. Contact National Branding and let us take care of your sign removal and de-branding requirements with the expertise and professionalism that only National Branding can provide. Your new brand identity is just a step away!