On Thursday, March 16, 2023, the Troy Chamber of Commerce Event held its first CEO Series, where Bob Chapa, CEO and President of National Branding, shared his insights and expertise on branding. Over 100 attendees from various industries attended the event to learn more about how branding can contribute to their business growth.
Tara Tomcsik-Husak, President and CEO of the Troy Chamber of Commerce, provided an overview of the Chamber's mission and vision, which is to create access for members to generate opportunities for business growth. The event was sponsored by Corewell Health Beaumont Troy Hospital, and Thomas Lanni Jr., the President of Corewell Health, introduced Bob Chapa.
Bob Chapa's presentation centered on the importance of branding and how it can benefit a business. He started by listing five key reasons why branding is important, including getting recognized more often, building trust and credibility, staying ahead of competitors, creating loyal customers, and attracting great talent.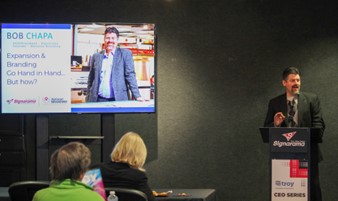 Bob emphasized the significance of the story that a brand tells about a business and highlighted the need for a branding plan in addition to a business plan and financial plan. He also shared tips on how to develop a brand outside of the box, using controlled growth as a strategy, and setting big goals.
Bob illustrated his talk by showcasing the example of a powerful logo that has no words, such as the iconic Starbucks logo. He explained how consumers recognize the symbol and associate it with the brand, thereby creating a lasting impression.
With more than three decades of experience in the sign and graphics industry, Bob Chapa, the CEO of National Branding, is a seasoned expert in his field. He is passionate about building brands and making a positive impact on the lives of everyone he comes across. Bob's expertise has helped small family businesses, startup franchise locations, and even national sign powerhouses to achieve their branding goals.
Under Bob's leadership, National Branding has developed BRANDboss, an app that streamlines and manages the sign installation process, enabling companies to track every installation site across the country. Bob has also created a comprehensive system for managing sign programs and branding launches for franchise clients and Fortune 100 companies. His team takes pride in their work, saying, "We don't just build signs…we build brands!"
In conclusion, the CEO Series event organized by the Troy Chamber of Commerce provided valuable insights into the trends in branding and how businesses can do branding right. Bob Chapa's presentation was engaging and informative, offering practical tips on branding, which attendees can apply to their businesses. The event was a success, and we look forward to more such informative sessions in the future.